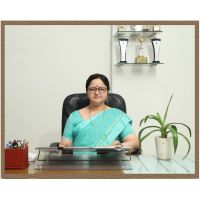 HOS
It is a proud and happy occasion for me that our school is launching its new website. The website has been designed to help students, teachers, parents and government authorities to access latest information on school, in a very user friendly manner. These days electronic media and internet have become most convenient means of information transfer and hence we hope that this initiative of our school will be welcomed by all.
The new website is one of the many steps taken by us to use new technologies for making various interactions more effective and "real - time". For example, smart classes have been functioning in our school for quite some time. Extensive use of CCTVs also ensures safe ambience for children.

Our school has traversed a long journey of about 5 decades of its existence; from a few students in make shift tents, to over 2300 students in an environment, which is envy of most schools in the neighbourhood. Over this period of fifty years, thousands of our students have passed out to subsequently lead successful lives as engineers, doctors, scientists, businessman, sports person, and above all, as good citizens. Identification of individual strengths and then, guidance for their full exploitation, is the key to happy development of growing children so that they can become good citizens of our society. Hence, this is a priority for us also. I am reminded of the inspiring words of our beloved former PM, Shri Lal Bahadur Shastri, when he said "we all have to work with the same dedication, and enthusiasm in our respective areas, which inspire a soldier in battlefield." We continue to work with this motto.
I do hope that the new website will be found useful by all and help in taking our school to greater heights.